FEEL GOOD AND COME ALIVE IN THE LOW RISE
At Marina Tower Low Rise you will find rental apartments that are just perfect: stylish, practical and with direct access to the Danube.
STYLISH ON THE DANUBE
Low Rise, as the smaller of the two residential towers is called, combines the comfort of high-end rental apartments with all the other amenities that the Marina Tower has to offer. Living in the Low Rise means living where others spend their free time and go on excursions: between the Danube and the Prater.
But in the Low Rise, you do not just benefit from the numerous recreational and rest areas, but also enjoy all the services available in and around the Marina Tower: a gym, restaurants or also the versatile local supply on offer for your daily needs. A kindergarten will also be located in the building. You have direct access to the right bank of the Danube through the unique Marina Deck and the "Donaumarina" U2 underground station is in the immediate vicinity.
The landlord of the presented residential property is ELNATH GmbH & Co KG (p.A. AURIS Immo Solutions GmbH Nauschgasse 2/1/1; 1220 Vienna; FN 503995 w.
FURNISHINGS
The Marina Tower is not only impressive from the outside. Inside the Low Rise, the rental apartments also blow you away with stylish and practical furnishings. The turnkey apartments have a fully equipped kitchen with kitchen furniture and appliances. From the 3rd to the 10th floor in the Low Rise, you will find various sized apartments in the "Style" furnishing category. Light colours, high-quality materials and timeless style elements make every single apartment a special place of well-being.
LOW RISE APARTMENT FINDER
Use our apartment finder to find your rental apartment in the Low Rise. Simply enter your specifications and check out the matching search results.
Your search results
Top
Level
Rooms
Living space
Areas
Top 94
10
2
48,2
Balcony, Basement
Key data
10. Level, Top 94
Living space 48,15 sqm2
2 rooms
Line of sight: East/South/West
Rental price
Gross rent incl. VAT and OC p.m. : € 1.224,33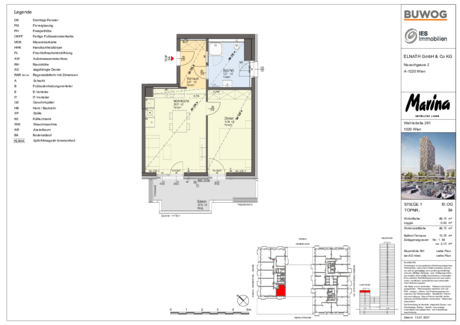 CONTACT
Even in these times, you can rely on BUWOG and IES Immobilien as
secure and stable companies. You can count on our many years of experience, which we will gladly use to help you
choose an apartment.
We are here for you - you can reach us at any time by phone or email!

Become an important part of Marina Tower. Get in touch with us and let us know what your special requests are. We will be happy to help you and together we will find the apartment that suits you!
Rental request
Disclaimer: Non-binding visualizations and free artistic representations; subject to change. No legal claim derivable.